Championing inclusive employment is more important than ever
Employment is a hot topic these days. The job loss numbers during the Coronavirus pandemic are unprecedented. Despite adding 419,000 jobs in July, Canada is still 1.3M below pre-COVID limits1.
These sobering numbers have given us all pause. Still, for people with disabilities (PWD), the hardship is even more significant, and their reintegration into the workforce will be more challenging than for most.
During regular economic times, 85% of adults with disabilities are underemployed or unemployed. However, since March, COVID has added new barriers with disrupted employment, support programs and employment training for PWD. And while there is a market upturn, those with disabilities face a harder road.
From the Syracuse University Lerner Center for Public Health Promotion, Jennifer D. Brooks believes these COVID-19 unemployment effects will have lasting consequences for people with disabilities long after the pandemic is over. Whereas most displaced workers without disabilities will be able to re-enter the labor market relatively quickly, this will not be the case for many people with disabilities2.
Unfortunately, COVID-19 has had a devastating effect on programs that support those with disabilities. In the US, a survey of 191 organizations serving people with intellectual and developmental disabilities conducted by the American Network of Community Options and Resources in July found that 77 percent had shut down, and 16 percent expected that they would not reopen3.
Canada cannot have such a grim outcome for programs that support individuals with a disability. Government, Business Owners, and service providers have to speak with each other and put in place innovative supports, employment opportunities, and accommodations for on the job training to ensure an equitable recovery for all.
As employers plan to scale up operations, the road to recovery can be an inclusive and profitable one. A 2019 Accenture study notes that companies that bring in PWD outperform their competitors – averaging 28 percent higher revenue. Besides greater profits, diversification of a workplace setting creates a positive workplace with highly satisfied, committed employees, and lower turnovers4.
Employers like CIBC understand the value of an inclusive work environment for the employee, the employer, and the economy. Runa Whitaker, Senior Director, Community Relationships notes financial inclusion is an essential part of ensuring that those with disabilities are full participants in our society.
"The prosperity of the Canadian economy depends on maximizing our human capital, talent, and capabilities. We need everyone, including persons with disabilities, to be full participants in our economy for our country to be strong and innovative. Diversity strengthens businesses and the nation as a whole, and the future of work has to be inclusive to benefit everyone," adds Whitaker.
We at Good Foot Delivery have risen to the challenge of updating protocols and training our neurodiverse workforce to adapt to new policies that keep our Customers and Couriers safe. After 128 days of suspension, we returned on the road with our Couriers trained in using PPE and following social distancing to carry out contact-free pickup and deliveries.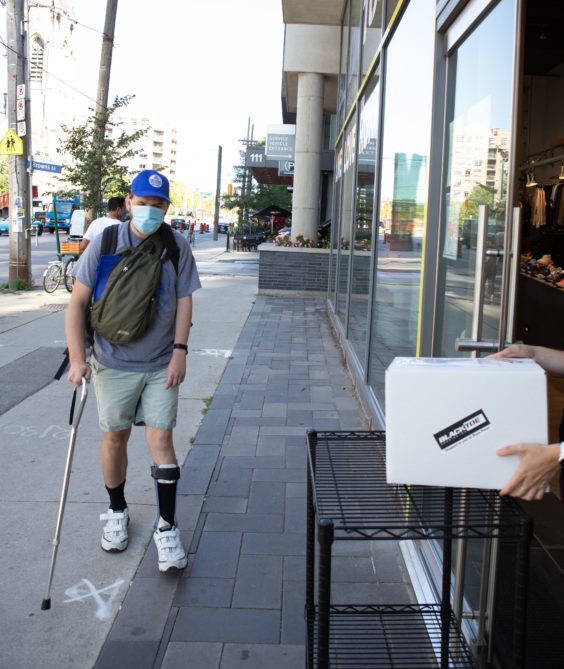 It took a few weeks of concentrated effort for our team to action a plan that has allowed most of our Couriers who wanted to resume work to start working again. All while following a high safety standard. Our Managing Director – Barb Willet, elaborates on the need for us to resume operations because – "we understand the importance of meaningful work to our Couriers."
It's not enough for programs like Good Foot to be committed to ensuring the people they support have access to jobs. Investing in programs that bridge the gap to prepare individuals with neurodiversity for work and preparing employers for a positive employment experience is vital. We need to ensure that eager and capable employees can make a successful transition to meaningful work. Equally important are the employers who create an inclusive environment that welcomes all kinds of employees, including those with disabilities and neurodiversity.
Without this support, employment prospects that are already devastatingly low will cease to exist altogether – a shift that will harm the workforce, the workplace, the economy, and most importantly, the individuals. Why? As Barb Willet says, "The independence that comes from being employed is life-changing."
Good Foot Delivery provides meaningful employment opportunities for the neuro-diverse community through a reliable, professional courier service delivered via public transit and foot. It believes inclusive employment is vital in building, promoting and embracing an equitable Canada of the future.